Hunting Opportunities in South Dakota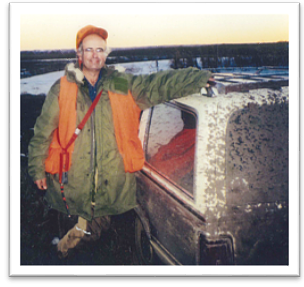 Our founder, better known as "Doc" just couldn't get enough of hunting. He hunted pheasants, deer, geese, ducks, turkeys, and even cranes! His trademark was his trusty 1983 Mercury Marquis Station Wagon you see here bought at Kredit Ford in Platte, South Dakota. It leaked a little oil and finally one day met its maker when the oily engine caught fire out in a field…you guessed it while on a hunting trip in Charles Mix County. Luckily the hunting dog and guns were gotten out of the car just before it became a fireball and exploded. When the car exploded, you could hear all kinds of ammunition going off. The Geddes Fire Department came out and put out the blaze. Sadly the car had a full tank of gas and it kicked up the fire a few notches. The hunters along were concerned about what to do next. Doc just laughed and said "lets go hunting."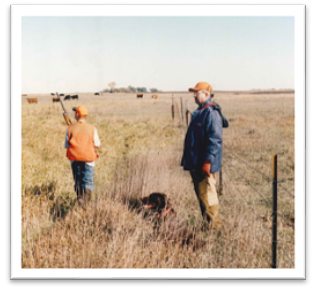 Doc was all about planting trees, putting in CRP, making habitat happen, and also lobbying our legislature to try and keep our hunting laws so that the outdoorsperson could still have a good time. Sadly he left us one day after having a heart attack on one of his farms while posting a sign that said "No Hunting Please." You'll note Doc's signs always said "No Hunting Please" and not just "No Hunting" because Doc was a gentleman. So if you see a sign that says "No Hunting Please" you know who hung it.
Doc was the Mayor of the little town of Platte for over 20 years where he is a legend, statesman and peacemaker.
Anyhow, from time to time we have hunting opportunities available as Doc isn't hunting them anymore but is instead hunting up with the Big Man in the Sky. If you are interested in hunting opportunities feel free to contact us.
Please check back from time to time for hunting opportunities as they change from time to time. If you are needing a place to stay while hunting in the Platte, SD area please check our Housing Opportunities page for nightly and weekly rental opportunities.